The "Morning Glow" Recipe Book
Why is everybody raving about Magnesium Oil? Because of its amazing anti-fatigue benefits for the tired, sore muscles that keep you awake at night.  Discover 10 sleep supporting recipes – and learn how to reclaim your sleep!
DIY All Natural Bug Spray (that actually works!)
Ever year as warmer weather approaches, we make several DIY homemade products to protect our family (including this  amazing homemade sunscreen recipe) and all natural bug spray.
While we are serious about keeping insects off, we are uncomfortable with traditional store bought sprays that use DEET to do it.   As Heather of Mommypotamus explains: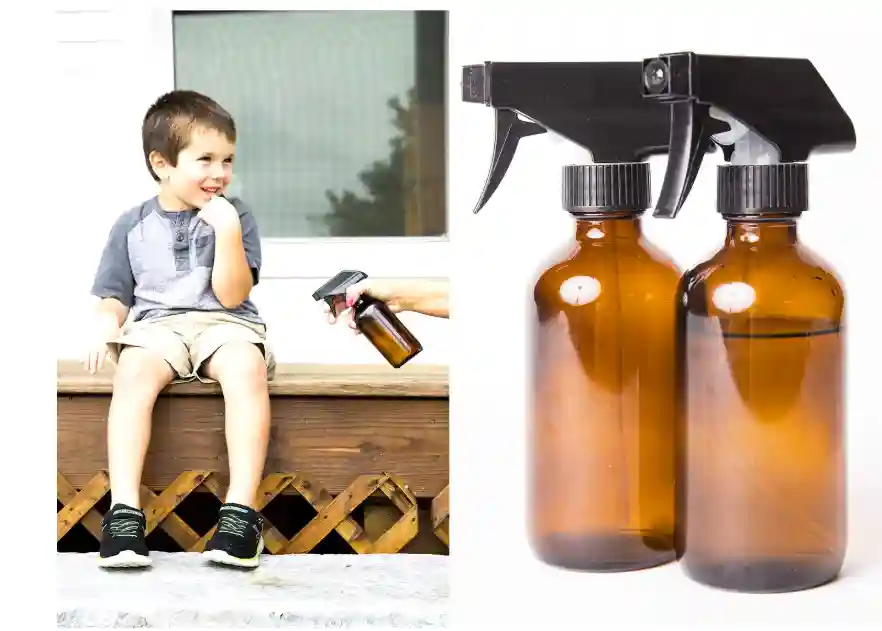 That's more than enough for us to reach into our DIY drawer and mix up a quick batch of all natural insect repellent!
There are recipes for all natural bug spray all over the internet, but after testing a TON of different variations be narrow things down to our favorite – that takes only 5 minutes to make.
Homemade Bug Spray Instructions
Place essential oils in a glass spray bottle. Add vodka or alcohol and shake well to combine.

Pour in Essential Living witch hazel and shake to combine.

Add ½ tsp vegetable glycerin if using. This is not necessary but helps everything stay combined.

Add water and shake again. Shake before each use as the oils and water will naturally separate some over time.
Homemade Bug Spray Ingredients
30 drops 

geranium essential oil

30 drops 

citronella essential oil

20 drops 

lemon eucalyptus essential oil

20 drops 

lavender essential oil

10 drops 

rosemary essential oil

1 TBSP vodka or rubbing alcohol

½ cup 

natural witch hazel

½ cup water (or vinegar)

1 tsp 

vegetable glycerin

 (optional)
We will be launching pre-made kits for our customers' favorite DIY recipes in early 2020!
Want 50% OFF Kits when we launch??
Enter your email below to get notified when kits are available, and receive 50% off